ABD PRODUCTIONS / SKYWATCHERS inspires social change through the arts. Our women- and queer-centered multi-ethnic company is committed to the production of new dance works created in collaboration with diverse communities. Our dances grow from deep investigations into the language of movement, using that vocabulary in eloquent, bold, and subversive acts of art.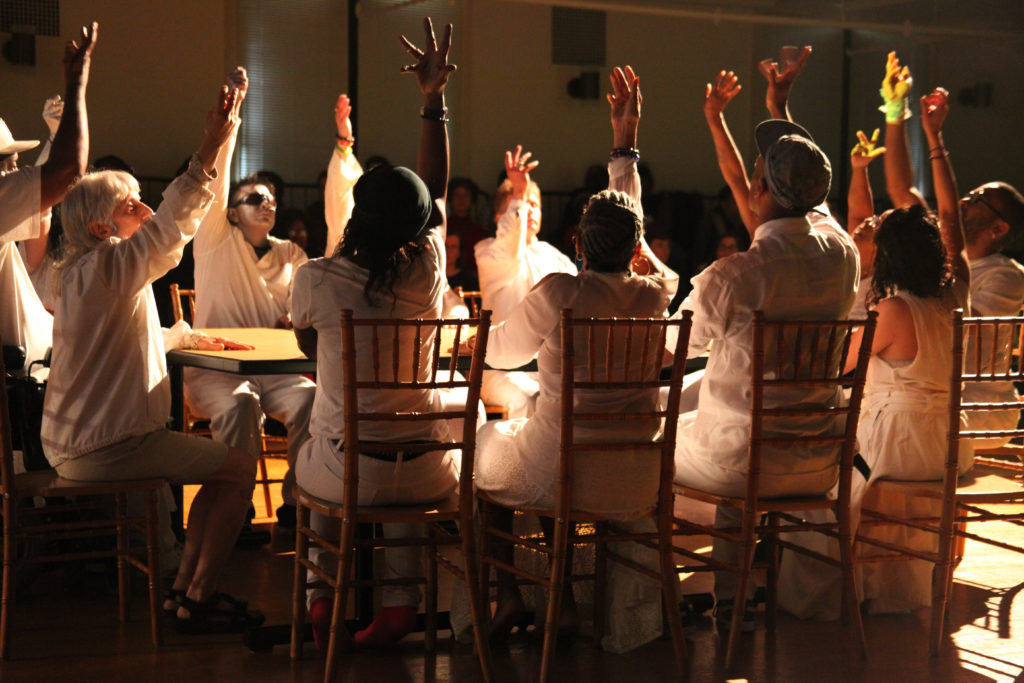 Since its founding in 1984, Anne Bluethenthal's ABD Productions has presented over 200 public performances locally and internationally at venues which include: the International Festival of Movement and Dance on the Volga (Russia), the Feminist Art Conference in Toronto, San Francisco Trolley Dances, Ohio State University, and the American Dance Guild Festival (New York), among many others. Under Bluethenthal's artistic leadership, ABD has received many awards and honors, including the 2019 YBCA 100, San Francisco Weekly's Black Box, San Francisco Bay Guardian's Goldie Award for Achievement in Dance, and the Rhinette Award for Best Choreography.
After decades of generating work in conversation with issues of social justice and ecological sustainability, in 2010 Bluethenthal felt drawn to understand what it would mean to create art with the community members directly impacted by the subject of the work. What began as a single conversation in the tenant lounge of the historic Senator Hotel (a Tenderloin supportive housing residence) about the conditions within the supportive housing site began to build a relational collaboration leading to the creation of the SKYWATCHERS program.
WHO WE ARE: ABD STAFF
JOSE ABAD (josé e. abad) is a queer performance artist rooted in collaboration and community engaged arts as a practice of resistance and liberation. Through dance and storytelling their work unearths the lost histories, memories, and wisdom that are held within the body that the mind has forgotten or dominant culture has erased. Their process of world building on and off the stage seeks to highlight the complex and nuanced existence of queer, black, indigenous, and trans* people of color.
ANNE BLUETHENTHAL has been bridging dance and community-engaged art for over 3 decades. Advancing justice and equity through bold, nuanced performance works that tackle subjects from globalization and climate change, to genocide and gender violence, Bluethenthal believes that relationships are the first site of social change. Her ongoing program, Skywatchers, brings artists into durational, collaborative relationships with residents of SF's Tenderloin neighborhood, interrogating the poverty industrial complex and positioning community voices in the civic discourse through the arts. Her work is brainy, her own, and full of soul…" (Rita Feliciano)
MALIA BYRNE (Associate Artistic Director) is a movement artist centering her practice around ancestral lineage, body reclamation, collaboration, and storytelling. She aims to use her work to create spaces for dialogue, creating, and organizing in coalition with QTBIPOC. She is a founding member of ABG: a horizontally-led collective centering womxn, femme, and nonbinary artists within the Asian diaspora, and has been working with Skywatchers as an artist facilitator for three years.
GABRIEL CHRISTIAN (they/them) is a BlaQ American artist bred in New York City (Wappinger Lenape land) & baking in Oakland (Chochenyo Ohlone land). For more than ten years, their work has metabolized the vernaculars inherent to BlaQ diaspora—futurity, fluidity, and faggotry—through high dramatics, structured improvisation, poetics & collaborative practices. They are often hosting micro-projects and attempting digital interventionism through their social media IG: @doom_body.
DAZIE RUSTIN GREGO-SYKES (Associate Artistic Director) is an Oakland based performance artist and activist. He is a graduate of The Experimental Performance Institute at New College of California and holds an MFA in Interdisciplinary Arts and Writing from The California Institute of Integral Studies. He is most well known for his two solo plays AM I A MAN and NIGGA-ROO along with his collection of poetry titled BLACK FAGGOTRY which was published by Nomadic Press in early 2020.
EMELIA MARTINEZ BRUMBAUGH (Jubilee July) stewards platforms for creative collaboration that center liberation and healing. They are also a performer/co-creator with Tuning Culture, Naka Dance Theater, The Cave/Coast Collective, and LXS DXS.
Goldie and Izzie Award winner SHAKIRI has been a performer, choreographer, and arts educator in the Bay Area for over thirty years. A member of the internationally acclaimed Zaccho Dance Theater Company, she has choreographed for Berkeley Rep, and danced with Dance Brigade, her own company Shakiri/Rootworkers, and others.
DEIRDRE VISSER is the Curator of The Arts at CIIS. She has—in nearly ten years at CIIS—published three artist monographs, mounted over 100 exhibitions, and convened many public dialogues on such topics as the representation of African American men and the legacies of the Chicano Movement.