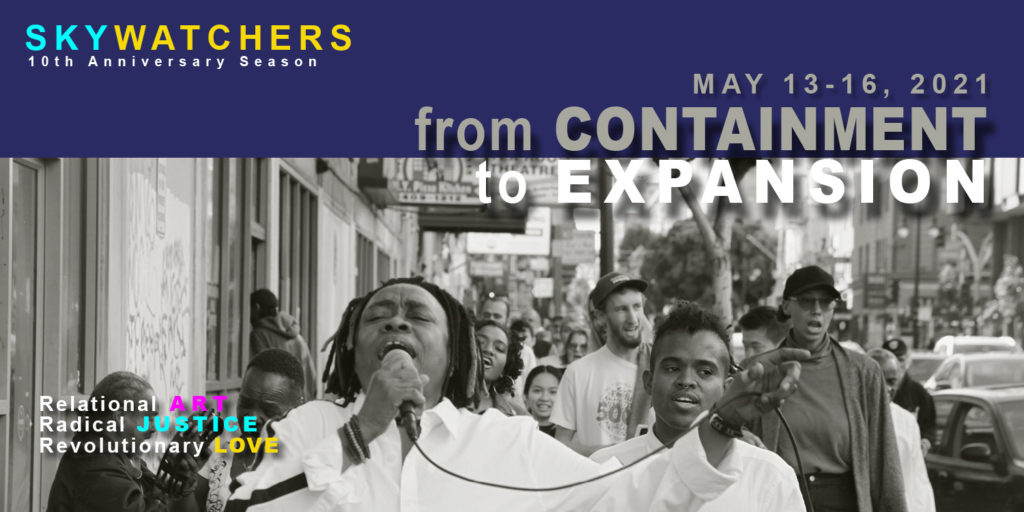 Online Screening:
6:00pm May 13 | The Slow Art of Belonging: Skywatchers at Ten
(Here's the LINK—and FOLLOW on social media!)
Outdoor Performances:
5:30pm May 14 & 15 | Performance at Civic Center Plaza (EVENTBRITE TIX for Friday/Sat.)
2:00pm May 16 | Matinee at 24th and Mission BART (EVENTBRITE TIX for Sunday)
**NOTE: All events will have ASL interpretation and honor COVID-safe protocols.

For our 10th Anniversary Season, Skywatchers marks a decade of radical, community-centered art making with a new work From Containment To Expansion, created in collaboration with Melanie DeMore. From Containment to Expansion is a multidisciplinary work that weaves story and song with Gullah stick pounding, a rhythmic language of resistance and celebration. This work heralds a future in which we celebrate, illuminate, and amplify what is powerful and unique in our most disinvested neighborhood.
We cannot and will NOT be contained!
MORE: Rev. Marvin K. White on From Containment to Expansion in InDance, May 2021