At the Table: I Got a Truth to Tell
Extreme Love
…Came Here To Live, November 2019
Came Here To Live: Resilience and Resistance in the Containment Zone, premiered at CounterPulse in November 2019. It offered a glimpse into life in the Tenderloin and a vision of what it means to have a seat at the table, to dismantle the table, and to create inclusive forms of discourse through creative resistance to systemic oppression and disenfranchisement.
Co-created by the Skywatchers Ensemble and Bay Area artists Anne Bluethenthal, Shakiri, jose e abad, Zulfikar Ali Bhutto, Malia Byrne, Gabriel Christian, Dazié Grego, and Deirdre Visser with Frances Sedayao, Rama Hall, Ian Winters, Chibueze Crouch, and Peekaboo Jenkins.
At the Table: Memory is Resistance
"A sense of place is built up, in the end, from many little things, some so small people take them for granted, and yet the lack of them takes the flavor out of the city…." -Jane Jacobs
Initiated by the Tenderloin Development Without Displacement coalition, the Tenderloin Memory Map is a community-sourced index of people and places of historical, communal, and personal significance that have been displaced–directly and indirectly–from the Tenderloin. At the core of this project is the belief that memory is resistance, and by remembering and marking what has been displaced from the TL–no matter how small–we resist the forces that deny the rich flavor of the neighborhood in order to justify the encroaching gentrification.
As part of the At the Table: VOICES festival, Skywatchers and Central City SRO Collaborative are offering tours of the neighborhood highlighting handmade plaques marking each of the sites on the map below. Each tour is one of a kind, led by Tenderloin residents, who will share their own experiences, knowledge, and memories of the neighborhood.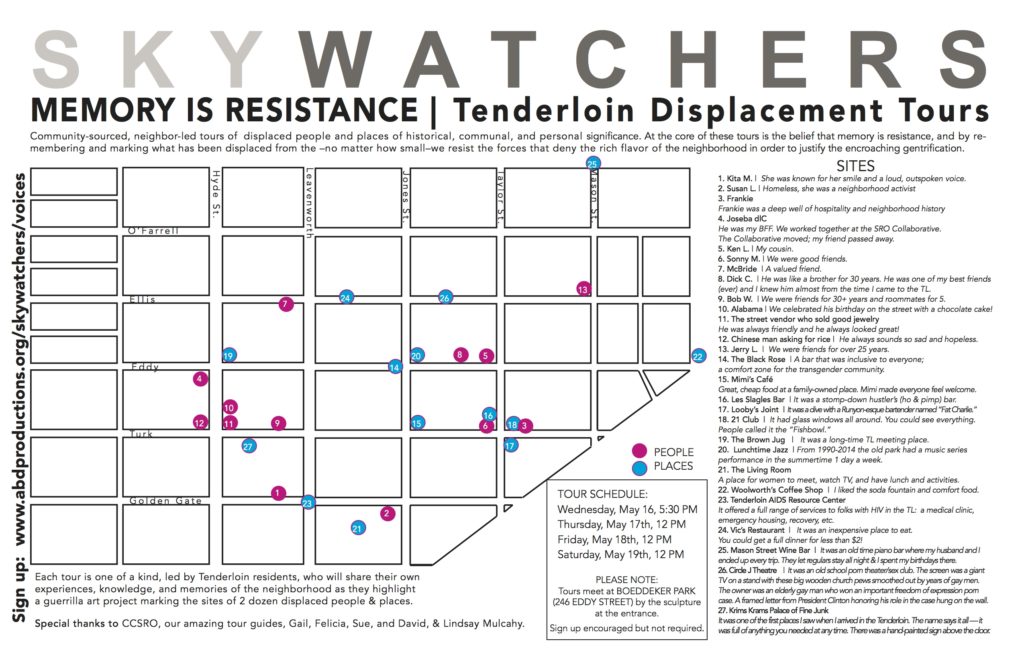 At the Table: I Got a Truth to Tell